With miles of sandy shores inviting you to relax and indulge in water adventures, and picturesque villages showcasing historic architecture and culinary delights, Cape Cod has it all. Dive into the rich culture with museums and theaters or immerse yourself in nature's beauty, from serene salt marshes to lush pine forests. Cape Cod beckons, promising an extraordinary vacation tailored to your every desire. Don't miss out on the vacation of a lifetime – come explore Cape Cod!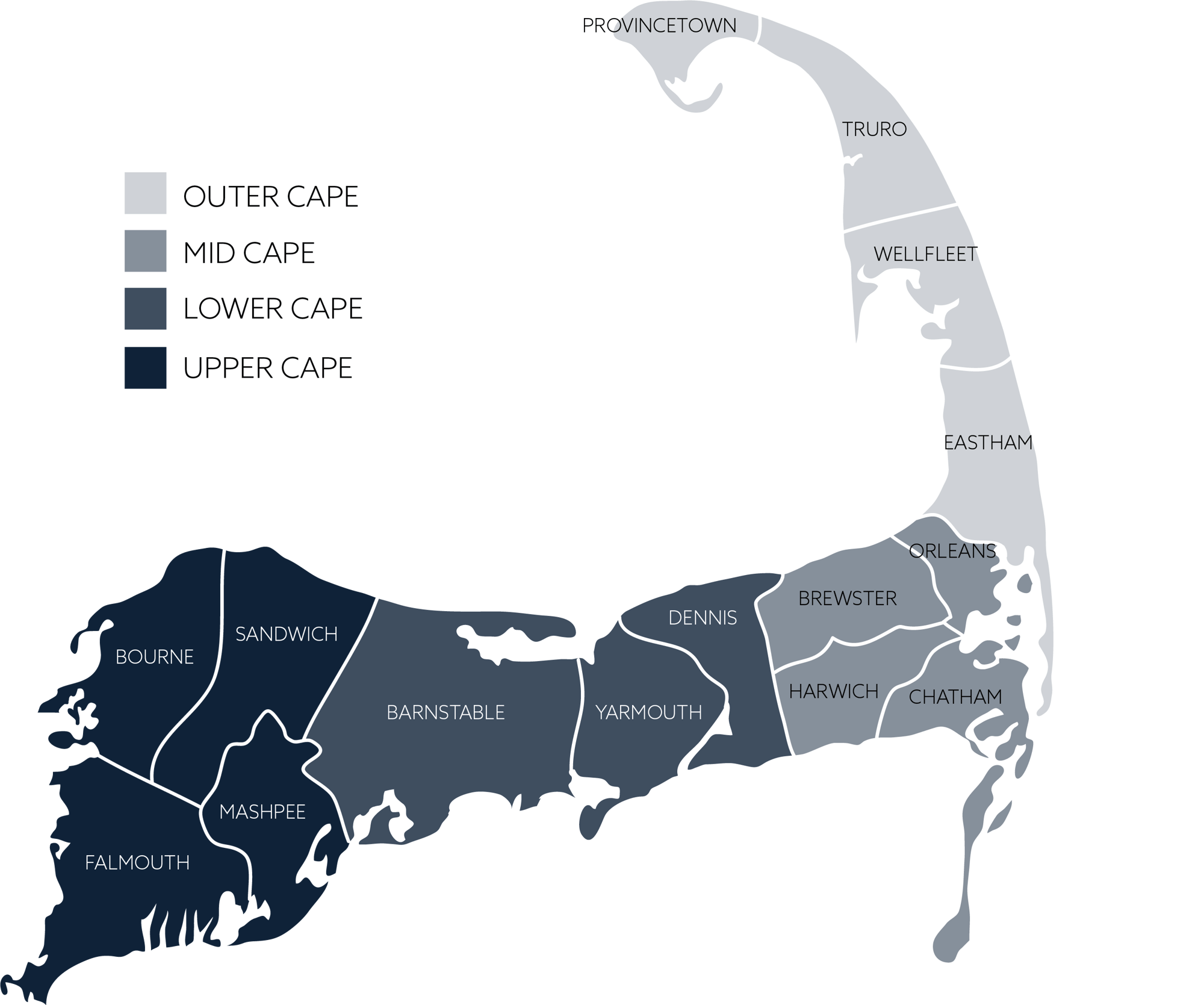 Each town, in a sentence.
Provincetown: A vibrant and diverse town known for its artistic community, beautiful beaches, and LGBTQ+ friendly atmosphere.
Truro: A peaceful and picturesque town offering breathtaking natural beauty with its stunning beaches, rolling dunes, and historic lighthouses.
Wellfleet: A charming coastal town renowned for its unspoiled beaches, thriving art scene, and deliciously fresh seafood.
Eastham: A quaint town perfect for nature enthusiasts, featuring stunning seashores, scenic hiking trails, and a rich maritime history.
Orleans: A lively town offering a delightful blend of quaint charm and modern amenities, along with beautiful beaches and fantastic shopping opportunities.
Brewster: A historic town known for its charming Cape Cod architecture, scenic ponds, and miles of scenic bike trails.
Chatham: A classic New England town exuding timeless elegance, boasting picturesque Main Street, stunning beaches, and a strong maritime heritage.
Harwich: A quintessential Cape Cod town with a vibrant arts scene, delightful harbor, and an abundance of recreational activities for all ages.
Dennis: A family-friendly town offering beautiful beaches, charming villages, and a variety of attractions, including mini-golf and water parks.
Yarmouth: A bustling town with a mix of commercial and residential areas, featuring sandy beaches, golf courses, and a lively waterfront.
Barnstable: The Cape's largest town, encompassing seven villages, offering a rich history, scenic landscapes, and access to the popular Hyannis area.
Sandwich: The oldest town on Cape Cod, featuring historic charm, quaint village streets, and the iconic Sandwich Boardwalk.
Mashpee: A vibrant town with a strong Native American heritage, featuring beautiful waterfront areas, golf courses, and a bustling shopping center.
Bourne: A gateway town to Cape Cod, known for the iconic Cape Cod Canal, serene waterways, and a mix of residential and rural areas.
Falmouth: A picturesque town offering stunning ocean views, charming Main Street, and access to the scenic Martha's Vineyard via ferry.